Is the Ultra-lean, Non-employee Company the New Way?
When I was writing Exit Signs, I interviewed many small business owners. They all had employees and most had revenues of half a million or more. Their stories of selling their companies, or thinking about selling, were instructive and familiar. Like me, they intended to grow beyond themselves and then sell.
So I was interested to learn this week of three developments in the world of small business. If you're thinking of starting a business or wrestling with growing yours, this may interest you too.
First, The Wall Street Journal just reported that small scale manufacturing companies, i.e., single-employee/owner or solopreneurs, are growing in number across the U.S. (in certain sectors), while their larger cousins are steadily shedding factory jobs. The greatest growth sectors are food, craft beer, and chemicals including cosmetics/toiletries. The graph here depicts that trend.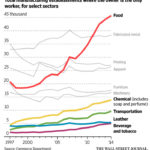 Second, according to the U.S. Census Bureau, there were 30,174 of these firms that brought in $1 million to $2,499,999 in 2013. That was the third growth year in a row for this small-business category. Single employer companies aren't just the little guys anymore.
And third, the Journal also reports these businesses are staying small longer. Firms that survive past five years hit a low of 42.9% in 2011 as a result of the recession. We now have a three-decade high survival rate of 48.7%. But they are not growing as fast as in the past.
This is good for the person motivated to start a business. It's bad, as a trend, for the U.S. economy. It made me wonder…
What's Behind the Trend?
The disruptive nature of the 2008 recession is the first reason. It left skilled and talented people on the sidelines for years while technologies shifted the profile of the employable. The second factor is the personal motivation to "be my own boss" and to be hands-on, close to the work and the final product. Third, the financial success stories of solopreneurs generate a belief that it's a get-rich-quick world out there. Finally, the Internet has provided the global access and platforms that allow small firms to expand their reach without the infrastructure and staff.
Does this development mean solopreneurs have it easier than their multiple-employee-firm cousins? My romantic view of them is the artist in his/her studio, the computer guru with latte and PJs in front of a computer, or the gardener readying the goods for the farmers market.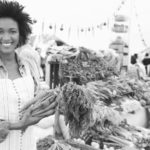 The practical side of me knows it's not that simple. These business owners have challenges and demons to conquer too.
Three Things You Should Consider as a Solopreneur
Work Motivation: What drives you to get up each day and do this work? How do you know when you are driving the pace and scale of your business vs. being driven by the work, day in and day out, doing more and more but feeling less and less fulfilled? What will be your red flags that something has to change?
Your End Game: Why are you in business—to what end? Is this an outlet for a passion that has a simple ending when you are "done"? Is it a passion that you wish to pass on to others who share your love? Is it an investment that is meant to fund your retirement? Your responses are key to knowing the answers to a hundred other questions about growth, leverage, scale, work-life balance, to hire employees or use independent contractors, to outsource that invoicing and bookkeeping or DIY; to invest to grow or stay frugal and avoid risk.

Relationships, Isolation and Size

: I started my business with the intention of having a team approach to the work and to building a community with shared values and good humor—a group that liked being together. You may have a different work style, preferring to avoid the messiness that comes with managing people and interpersonal relationships. Be aware of your need for or aversion to this. The scrappiest of solopreneurs who outsource and contract and reach that million-dollar threshold without having a staff, have to manage multiple relationships and diverse interests just like larger-scale businesses.
Address these questions in advance of the predictable challenges of scaling up, distribution, vertical integration, and even prospective offers to buy you out.
Is Smaller Better or a Double-Edged Sword?
I'm gratified that startups and ultra-lean businesses are making their way and contributing to individual satisfaction and to their fields. There is a big picture consideration, beyond the individual ones listed above. It is the impact of this trend on the economic health and social well-being of communities and the U.S. As one expert wrote, "We get the biggest bang for the buck (in job and wage growth) from firms that start small and grow fast." But the smallest businesses—with one to four employees—are growing as a percent of all businesses. And they are staying small, so job gains from this business sector are at their lowest in over 20 years, and at half their peak from the '90s.
Peter Drucker made the case for entrepreneurship that guided my thinking when I started my firm. He said that a key characteristic of an entrepreneur was the creation of new wealth beyond oneself, and that entrepreneurs did this with speed. I have to wonder if the titles solopreneur and ultra-lean meet his characteristics. The data suggests otherwise. They are staying smaller longer and only a very small percentage is significantly generating great wealth.
So, I wonder if these terms aren't the contemporary spin we put on the newest versions of mom and pop businesses. If so, let's help them endure in our communities. But let's not romanticize them or ignore the impact on employment and wealth generation. One of my favorites among these small mom and pops is a local Italian restaurant. It just announced it's closing after 98 years! "I'm tired of cooking and washing dishes," the 67-year-old (fourth generation?) owner said. Loyal patrons will miss them, but not as much as their employees and suppliers and their families will. Being small is tough work; staying viable even tougher.
How do you measure the plus and minus of staying small longer? What are your considerations?
And Happy New Year!